Biostatistics Core Alliance
Highlights
Research
July 1, 2015
NET SPORE received funding.

Members
June 22, 2015
The HCCC Biostatistics Core welcomes its new member Tim Ginader, MS.

The Biostatistics Core Alliance provides a common point of access to biostatistical support for members of the Holden Comprehensive Cancer Center (HCCC), the Institute for Clinical & Translation Science (ICTS), and other biomedical programs at the University of Iowa.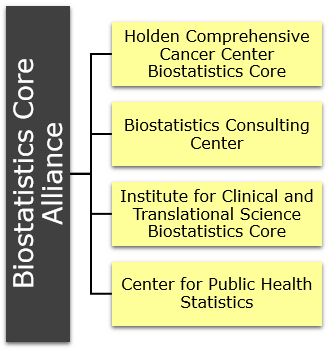 Alliance members are highly skilled biostatisticians from the College of Public Health, HCCC, and ICTS research cores with expertise in data management; study design; statistical analysis of clinical, epidemiological, laboratory, and public health data; and grant and manuscript preparation. A request for biostatistical support can made via the accompanying online form and will be routed to a Core member with expertise relevant to the request.
Support
If you are interested in biostatistical support, please complete the online request form. Upon receipt, an Alliance member will contact you about your project.